Wall ties are used in cavity walls to hold the two walls together, without wall ties the two walls can bulge or bow. Brick Tie and Frame Tie act as reinforcement for brick and block walls when embedded in cement mortar at every fourth course.
Brick tie and Frame tie are corrosion resistance manufactured using high quality galvanized steel.
Material: galvanized iron wire, stainless steel wire,high quality galvanized steel, stainless steel
We can produce all types of wall ties according to your samples or drawings.
(1) Bricktor (Brickweld)
Also called mesh wall Wire tie, it is ideal for bonding and strengthening brickwork, blockwork and stone walls. Available in stainless steel and galvanized finishes.To control cracking in masonry, it can be used for both standard masonry joints and 2-3mm thin joint systems.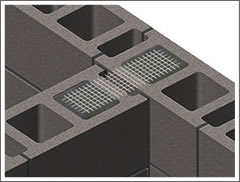 GAUGES:1/4" square X 23 ga;1/2" square X 16 ga.
DIMENSIONS:WIDTH: 4" WIDE FOR 6" WALL, 6" WIDE FOR 8" WALL, 8" WIDE FOR 10" WALL, 10" WIDE FOR 12" WALL, OTHER LENGTH: 8", 12", 100 FT. ROLL, and OTHER
(2) Double Triangle Tie
Product Description: Use with a retaining disc to support and hold in place cavity insulation. Include drip to allow moisture to run off.
(3) Traditional butterfly wall Wire tie
Product Description: Place across cavity and tie two skins by embedding in mortar. Includes twist to allow moisture to drip off
(4) Flexible Wire Anchor
Permit horizontal and vertical movement of the masonry wall while restraining the wall from moving laterally out of plane.
AVAILABLE FINISHES: Mill Galv./Hot Dip Galv./Stainless Steel
Adjustable Wall Veneer Anchor
GAUGES: 14 ga. or 12 ga. thick
AVAILABLE FINISHES: Hot-dipped galvanized or Type 304 stainless steel; Type 316 optional